Both Lives Matter urges voters to take a stand for life in the Irish referendum on the 25th May. If the eighth amendment is repealed this will open the door basically to abortion on demand as is the case in the United Kingdom  (except for Northern Ireland). I like the renewed emphasis of' both lives matter as it clearly states that we are dealing with two lives, the life of the mother and the life of the unborn infant. It has been interesting to observe the posters on display in the Republic of Ireland and the simple message that the unborn child can yawn and kick at just nine weeks.
Both lives matter was also the theme of a roadshow in the North of Ireland which my wife and I attended on 14th May in Belfast. It was an excellent presentation and included the story of Rebecca, a teenage mum (see maverick mum) whose four year old child Reuben is doing great and could easily have been a casualty of abortion.  It is estimated that since the 1967 abortion act came into force in England that 100,000 lives have been saved in Northern Ireland as a result of there not being a similar act in place in Northern Ireland. It is important to remember that we are dealing with two lives and the life of the unborn child is a separate individual with two parents. it is not just an appendage of the mother.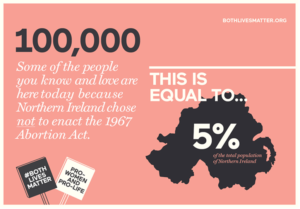 What about the psychological sequelae of abortion? Do these exist? Certainly. This is known by many anecdotes of those who suffer tremendous feelings of guilt and self –  blame following abortion. A  paper by Coleman, which reviews 22 other studies (British Journal of Psychiatry 2011) suggests that women who had had an abortion showed an 81% increased risk of mental health problems and as many as ten percent of mental health problems may have their roots in abortion. Certainly both lives matter. For my book on other mental health issues see Mindful of the Light-practical help and spiritual hope for mental health.